Ringing in the new year with friends, food, wine, and Mr. Clark's famous dropping ball:
André Blanck 2002 Riesling Schlossberg "Vieilles Vignes" (Alsace) – Two bottles tasted, with consistent notes. Clean, wet industrial metals with dried grapefruit rind and a slightly acridity. It's full-bodied and hollow at the same time; not because it lacks a midpalate, but because it just doesn't "say" much of anything. Perhaps age will improve things.
The Schlossberg, a grand cru vineyard situated above the towns of Kientzheim and Kaysersberg (and a very pretty, if rough-hewn, slope), is best known for its rieslings…less so for its gewürztraminers…but it's a site I've never entirely warmed to. There's a force to the wines similar to those from Brand (another grand cru vineyard), but it too often seems that the force overwhelms complexity and nervosity. It's not a producer-specific problem, because the site is worked by producers of varying styles (Weinbach, Mann, Sparr and Paul Blanck are the most famous), but while the wines are often very, very good, they rarely reach the pinnacles of certain other sites. It could just be personal preference at work, of course; most others seem to adore these wines, and it would be hard to argue persuasively against the high quality of the best Schlossberg rieslings of Weinbach and Paul Blanck. But I wonder if there isn't something about the combination of searing sunlight (common to the entire south-facing band of vineyards here, including Altenbourg and Furstentum) and cooling air coming down from the Vosges via the Lapoutroie gap (Schlossberg is tucked right up into the Vosges foothills) that knocks these wines a little off-kilter, at least for my taste. Alcohol: 13.5%. Importer: Vineyard Road.
Bollinger Champagne Brut "Special Cuvée" (Champagne) – Two bottles tasted, with fairly consistent notes. Smoldering fall leaves and roasted cherry skins with fat peach and spice jar aromas and a thick texture offset by smooth pétillance. This is one of those rare NVs that actually needs age to come together; it's a little hedonistic right now…almost slutty, in fact…and could use a little more refinement. That will come in time.
I admit it: I am an unrepentant Bollinger fan. I love pinot-dominated sparkling wine, and something about the combination of grapes, soils, and blending skill at Bollinger just tickles my Champagne fancy. I do wish the wine wasn't so expensive, which causes it to be decidedly less than a house Champagne for me, but the quality is undeniable. Alcohol: 12%. Importer: Paterno Wines International. Web: http://www.champagne-bollinger.fr/.
JJ Christoffel 1995 Erdener Treppchen Riesling Auslese ** 10 96 (Mosel-Saar-Ruwer) – Beautiful creamed iron dust and long-decayed pollen with hints of lemon-strawberry custard. Firm and well-structured, very sweet, and lacking just a bit of the edge that would push it into the stratospheric realms of riesling. But it's still excellent.
Everyone's waiting to see what's going to happen to this venerable house now that it has changed hands. In the meantime, there remains a decent supply of older Christoffels from which to taste the real genius at work among the former ownership. Upper-level auslesen are rarely my favorite style of German riesling; I find "normal" auslesen (which are getting rarer by the year) to have better balance and verve, and full-on beerenauslesen to have more of the sweetness one wants in a true dessert wine. This two-star auslese, however, has always retained a certain poise despite the sugary palate weight, and for that I've gone to it time and again when needing a well-aged riesling to convert the uninitiated. Alcohol: 8%. Importer: Terry Theise/Milton S. Kronheim/J&H Selbach. Web: http://www.moenchhof.de/.
Dubourdieu "Château Graville-Lacoste" 2003 Graves (Bordeaux) – Fruity gooseberry and lemon-lime with Granny Smith apple and a boisterous, attention-grabbing personality…only once it has your attention, it has very little to say.
Bottle after bottle, this wine reminds me of a New Zealand sauvignon blanc rather than a sauvignon/sémillon blend from the more restrained soils of Graves. Blame 2003. Alcohol: 12%. Importer: Kermit Lynch.
Papin-Chevalier "Château Pierre-Bise" 2002 Côteaux du Layon Rochefort Les Rayelles (Loire) – Stunning waxy/creamy chalk and honeysuckle with the most flawless texture of liquid silk and an endless, clean finish of delicate white nectarine and spice. Beautiful, with a long, long road ahead of it.
If you haven't stocked up on 2002 Loires, you're going to be sorry. Exquisite dessert wines of this quality are rare on the ground, and this particular botrytized chenin blanc does something the category rarely does: it tastes fantastic right out of the gate. Let me be clear about this: buy as much as you can afford, and then buy some more. Alcohol: 12.7%. Importer: Louis/Dressner/LDM.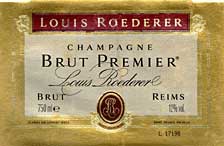 Roederer Champagne Brut "Premier" (Champagne) – Full-bodied and red-fruited, though with a significant offset of ripe and sweet lemon, showing less assertive but cleaner and more focused than the Bollinger.
I'm not the only one to have occasionally expressed a preference for this house's Mendocino County products over its authentic Champagnes. No doubt the effortless international market for Cristal, a cash cow if there ever was one, reduces the motivation for producing high-quality wine. Nonetheless, this is a fine Champagne for the short term; another pinot-dominated wine that is less of a dominating presence at table than the previously-noted Bollinger. What it lacks is a sort of forward-looking complexity; the apparent effort to achieve something beyond pleasant bubbly. Roederer Estate in California is unquestionably less elegant and clumsier in its fruit-forward expression, but at least there one gets the clear sense that aspirational winemaking is at play. Alcohol: 12%. Importer: Maisons Marques & Domaines. Web: http://www.champagne-roederer.com/.

Charles Heidsieck 1996 Champagne Brut Rosé (Champagne) – Funky and very difficult, with some very advanced sweaty yeast notes coupled with tart red cherry and a somewhat indolent effervescence. It might just need more time.

Rosé Champagne walks a fine line, trying to retain its regional elegance and precision while embracing the powerful influences of blended red wine. It doesn't always succeed, at least in youth (which is why the remarkably consistent Billecart-Salmon Rosé is so justifiably famous), and here's an example of how it can fail. And yet, all the components are there, and from a solid house like Charles Heidsieck, one would expect ageability to take care of some of the current issues. Alcohol: 12%. Importer: Remy Amerique. Web: http://www.charlesheidsieck.com/.

Clos du Paradis "Domaine Viret" 2000 Côtes-du-Rhône-Villages Saint-Maurice "Cosmic" (Rhône) – Well-knit roasted plum and strawberry with hints of bubblegum, lavender and earth. Direct and to-the-point, though more complex than most wines of that description, with the potential for some limited aging but very little upside in doing so.

This remarkable winery produces a stunning lineup of differently-blended and sited wines from Saint-Maurice (home to them and a co-op, but no one else of note, at least on my last visit), all of which are rather forceful and (occasionally) impenetrable for a virtually-unknown village in the Côtes-du-Rhône. Plus, they're expensive (again, in the context of an unknown appellation). What this means is that introducing the uninitiated to the domaine is problematic. The U.S. importer fought this by introducing this export-only cuvée, a grenache-dominated and "friendlier" product to provide immediate, and lower-cost, enticement on U.S. store shelves. I don't know if the plan is working or not (the other bottlings still seem to be difficult sells), but I do know that I've bought cases of this wine in both its vintages. The '99 was slightly better, but this is a quibble; good wine is good wine. Alcohol: 14.5%. Cosmocultural. Importer: Louis/Dressner/LDM. Web: http://www.domaine-viret.com/.

Clos-Fourtet "Martialis de Fourtet" 1997 Saint-Émilion (Bordeaux) – A beautiful wine at the beginning of its full maturity. Moist leather and dark, dried berries are coupled with dried thyme and pencil shavings (both the graphite and the cedary wood) in a beverage of elegance and balance. There's still moderate and unresolved tannin, but the fruit is so nice right now that it might not be wise to wait too many more years.

I don't drink a lot of merlot, but of course a good St-Émilion or Pomerol isn't just a "merlot." 1997 was a less than heralded vintage, but carefully selected bottles are drinking really nicely over the earlier term; perhaps few show any real notion of classic balance, but that hardly renders them undrinkable. The problem, as ever for Bordeaux, is that lesser wines from off-vintages ("lesser" by the definitions of the market, not qualitatively) are a very difficult thing to sell in a worldwide market where someone has always had an excellent year, and where fun and accessible wines are strewn like litter across the landscape. The Bordelais could compete more successfully if the wines were cheaper, but we all know that's never going to happen. And so, we have wines like this: only the devoted (or the unwary) would buy them, and all but those few will miss out on the potential pleasures such wines can provide. Alcohol: 12.5%. French bottling. Web: http://www.closfourtet.com/.

Dow's 1986 Single Year Tawny Porto "Reserve" (Douro) – Juiced plum candy and spiced figs with raw cane sugar squeezings and touches of cinnamon. Sweet, crisp and enticing, but without some of the extra complexity found in previous vintages of this wine.

I've often heard that the "English-owned" Port houses resist the term "colheita" (which is what this is; a vintage-dated tawny Port), but I haven't done enough of a survey to verify the truth of the matter. What I do know is that this wine, in an earlier vintage (1982), is the one that opened my eyes to the lusciousness of aged colheitas, which are almost always cheaper and more accessible than their vintage-dated ruby brethren. Certainly, as pre-aged wines, they don't require such overwhelming patience; one can just uncork and drink, and yet one isn't getting a simplistic fruit bomb, but a delicious combination of tertiary wine complexities and spicy barrel influences. Alcohol: 20%. Importer: Premium Port Wines. Web: http://www.dows-port.com/.